Week 13 was a mixed bag of results for the NFL's rookies. The was some redemption in the AFC East at the quarterback position. The Vikings/Ravens game featured a wild finish involving a pair of rookie receivers. Some impressive offensive line play from the 2013 class in the Cowboys/Bears Monday nighter, as well as a devastating injury to a rookie of the year candidate in the NFC East.
Geno Smith – Quarterback, New York Jets
Smith responded well from his week 12 benching and led the Jets to a 37-27 victory over the Raiders. Smith threw for 219 yards and a score and added 50 yards and a touchdown on the ground.
Giovanni Bernard – Running Back, Cincinnati Bengals
99 yards rushing, 49 yards receiving. Bernard is a terrific outlet receiver and has been gaining more and more comfort as a runner. The Bengals offense is loaded with emerging young talent.
Cordarrelle Patterson – Wide Receiver, Minnesota Vikings
Patterson was fantastic for Minnesota with 5 catches for 141 yards, including a highlight reel 79 yard touchdown with under a minute remaining.
Marlon Brown – Wide Receiver, Baltimore Ravens
7 catches for 92 yards and the game winning touchdown on a 9 yard pass from Joe Flacco. Brown has been a pleasant surprise for a Baltimore offense that needed playmakers.
Da'Rick Rodgers – Wide Receiver, Indianapolis Colts
Rodgers may have found a home in Indy as bouncing around the league in the last few months. In his first NFL opportunity, Rodgers responded with 6 catches for 107 yards and 2 touchdowns.
Justin Hunter – Wide Receiver, Tennessee Titans
Hunter hauled in 4 catches for 114 yards and a touchdown. An emerging downfield threat, Hunter now has 4 touchdown on the year averaging over 19 yards per catch.
Jordan Mills – Right Tackle, Chicago Bears
Kept Josh McCown clean and helped open holes in the running game for the Bears in the victory over the Dallas Cowboys.
Kyle Long – Right Guard, Chicago Bears
Long can be dominant and he was a force to be reckoned with against the Cowboys as Chicago gained nearly 500 yards on offense.
Travis Frederick – Center, Dallas Cowboys
Led the Cowboys rushing attack which gashed the Chicago defense for 198 yards on the ground.
Brian Winters – Left Guard, New York Jets
Winters has begun closing in on the long term left guard job in New York. Winters is a punishing run blocker and helped the Jets rush for over 140 yards.
Lane Johnson – Right Tackle, Philadelphia Eagles
Played rock solid in horrible conditions. The Eagles offensive line kept quarterback Nick Foles upright and paved the way for Lesean McCoy to pass the 200 yard mark for the first time this season.
Defense
William Gholston – Defensive End, Tampa Bay Buccaneers
Gholston has quietly begun making plays and with 1.5 sacks against Buffalo he has earned more time with the first unit.
Sharrif Floyd – Defensive Tackle, Minnesota Vikings
A quiet day in the box score, but Floyd was active along the line of scrimmage and very disruptive on the day.
Chris Jones – Defensive Tackle, New England Patriots
Jones helped the middle of the New England defense limit Browns running backs to 2.1 yards per carry.
Alec Ogletree – Outside Linebacker, St. Louis Rams
His 9 tackles and a sack were not enough to slow down the Cardinals who won 30-10. Ogletree has been impressive as a rookie with 94 tackles, a sack, an interception, and 4 forced fumbles on the year.
Paul Worrilow – Outside Linebacker, Atlanta Falcons
11 tackles and a sack in a close loss against the Packers. This UDFA has been playing his way onto the team in 2014.
Barkevious Mingo – Outside Linebacker, Cleveland Browns
4 tackles and a sack in the Browns brutal collapse against New England. His 5 sacks for year places him second among rookies but first for the Browns.
Jonathan Banks – Cornerback, Tampa Bay Buccaneers
2 tackles and an interception in the Buccaneers 27-6 dismantling of E.J. Manuel and the Buffalo Bills.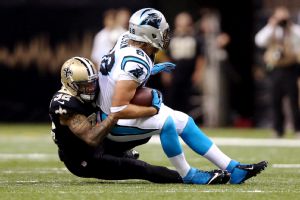 Kenny Vaccaro – Safety, New Orleans Saints
Pitched in 7 tackles as the Saints overwhelmed Cam Newton and the Carolina Panthers in a 31-13 victory.
Jonathan Cyprien – Safety, Jacksonville Jaguars
11 tackles in the Jaguars win over the Texans, an emerging run defender, Cyprien is the Jaguars second leading tackler behind Paul Posluszny.
Tyrann Mathieu – Defensive Back, Arizona Cardinals
Tore multiple ligaments and is done for the season. Tough break, Mathieu has emerged as one of the most exciting defenders in the league.
Tags: AFC Atlanta Falcons Baltimore Ravens Chicago Bears Cincinnati Bengals Cleveland Browns Dallas Cowboys Indianapolis Colts Jacksonville Jaguars Minnesota Vikings New England Patriots New Orleans Saints New York Jets NFC NFL Philadelphia Eagles St. Louis Rams Tampa Bay Buccaneers Tennessee Titans