2023 NFL Draft prospects to watch in the second wave of bowl games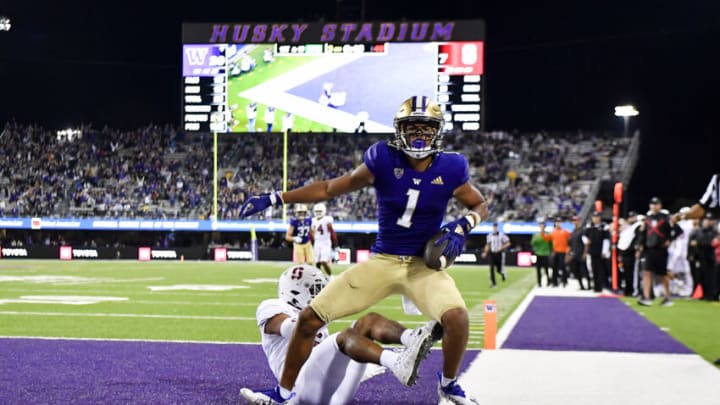 SEATTLE, WASHINGTON - SEPTEMBER 24: Rome Odunze #1 of the Washington Huskies looks on after scoring a touchdown during the third quarter of the game against the Stanford Cardinal at Husky Stadium on September 24, 2022 in Seattle, Washington. The Washington Huskies won 40-22. (Photo by Alika Jenner/Getty Images) /
The first wave of bowl games is in the books and the 2023 NFL Draft prospects who took the field didn't disappoint. The high number of opt-outs in the first few bowls even meant getting a closer look at some of the unheralded, yet talented sleeper prospects in this draft class.
Playmakers like UAB's Trea Shropshire, Fresno State's Jordan Mims, and Souther Miss' Frank Gore Jr. all took advantage of the opportunity to familiarize their names with fans and boost their NFL Draft stock. All while the bigger brand name prospects who did suit up in that first wave (BYU's Blake Freeland, Cincinnati's Ivan Pace Jr., and Fresno State's Jake Haener) lived up to the hype.
The unpredictability of the transfer portal and opt-outs even set Western Kentucky's Austin Reed up for a star return for the Hilltoppers (he initially put his name in the portal but chose to return to Tyson Helton's program) after he threw for 497 yards and 4 touchdowns in the New Orleans Bowl. (He's a senior QB to watch for the 2024 NFL Draft.)
The first wave of bowls were predominantly made up of Group of Five programs (five involved at least one Power Five school), while the second wave will see an increase in Power Five teams (eight bowls), which naturally means more NFL Draft talent taking the field. These are the NFL Draft prospects to watch in the second wave of bowl games.
EasyPost Hawaii Bowl- Middle Tennessee vs. San Diego State
Patrick McMorris, S, San Diego State (6-0, 210)
Few holiday traditions top watching the Hawaii Bowl on Christmas Eve, and this year it features one of the longest tenured head coaches in Middle Tennessee's Rick Stockstill and one of the most well-known Group of Five head coaches in San Diego State's Brady Hoke (for his time at Michigan). It's also one of the worst offenses (the Aztecs are 117th in total offense) against one of the worst defenses (the Blue Raiders are 98th in total defense).
Although that might not make it the most appetizing game, especially on Christmas Eve, San Diego State safety Patrick McMorris will make it worth your time. McMorris is like a linebacker the way he attacks in the box and he may be the most physical tackler in the 2023 NFL Draft's safety class.
Other than McMorris, his teammate Jonah Tavai (brother of Patriots linebacker Jahlani Tavai) is an active defensive lineman with 26.5 TFLs and 17.5 sacks the last two years. Middle Tennessee has a defensive stat stuffer themselves in pass rusher Jordan Ferguson (32.5 TFLs and 17 sacks the last two years) and another sleeper prospect to watch is Blue Raiders undersized pass catcher Jaylin Lane.
Quick Lane Bowl- New Mexico State vs. Bowling Green
Chris Ojoh, LB, New Mexico State (6-1, 220)
Those tuning into the Quick Lane Bowl without having ties to either school are truly the biggest of college football fans. Bowling Green is one of the more confusing programs, they lost to an FCS program (Eastern Kentucky) but managed to beat Marshall and MAC Champions Toledo. New Mexico State on the other hand is only playing in its second bowl since 1961.
With that being said, both programs have a productive defender who will get looks in the NFL. The Aggies do-everything linebacker Chris Ojoh is asked to lineup at overhang frequently where his size and athleticism help slow spread offenses. Though his over-aggressive style can lead to missed tackles, he has the makeup of a productive special teams player (he's got 173 tackles, 26.5 TFLs, and 11 sacks in two years).
The Falcons have a defensive star too in defensive lineman Karl Brooks who leans on his quickness to create mismatches on the interior (30.5 TFLs and 17.5 sacks the last two seasons). Bowling Green receiver Odieu Hiliare is another prospect to watch, he really caught on down the stretch.
Camellia Bowl- Georgia Southern vs. Buffalo
James Patterson, LB, Buffalo (6-0, 232)
This is a bowl game of two zany teams. Buffalo needed a last second win against Akron (in a rescheduled game that took place on the Friday afternoon of championship weekend) to reach bowl eligibility while Georgia Southern hired former USC head coach Clay Helton to move the program away from the triple option (the Eagles managed to upset Nebraska before going 4-6 the rest of the way).
As for prospects, a hold over from the Lance Leipold era, James Patterson has been the man in the middle of the Bulls defense for five years. Twin brother of former Buffalo turned Washington Commanders running back Jaret Patterson, James is an old-school thumper at Mike who rarely misses a tackle nor a run fit.
Bulls receiver Justin Marshall, a Louisville transfer, is their best playmaker and he would have been going head-to-head with the Eagles best prospect in cornerback Derrick Canteen, who excels in off-zone coverage, but Canteen hit the portal last week. Another interesting storyline is Georgia Southern quarterback Kyle Vantrease, who started for three years at Buffalo before transferring.
SERVPRO First Responder Bowl- Memphis vs. Utah State
Quindell Johnson, S, Memphis (6-1, 195)
The First Responder Bowl is a battle of fan bases who expected more out of their programs this year. After winning the Mountain West last year, Utah State regressed to 6-6 in Blake Anderson's second season and Memphis managed just six wins for the second straight year under Ryan Silverfield after consistently competing for the AAC under Justin Fuente and Mike Norvell.
Due to the Tigers recent slide, the program doesn't have a clearcut NFL Draft prospect for the first time in years, but safety Quindell Johnson is a hidden gem in this class. Asked to play all over (two-deep, box, overhang), his take on skills are top-notch (316 tackles in four years with missed tackles being rare) and his length and instincts allow him to disrupt passing lanes in zone (24 passes defended and 10 interceptions in four years).
Utah State running back Calvin Tyler Jr. would have been someone else to pay attention to, he's an Oregon State transfer, but he opted-out. A bowling ball runner, Tyler Jr. has over 1,800 rushing yards and 14 TDs in two seasons in Logan.
TicketSmarter Birmingham Bowl- Coastal Carolina vs. East Carolina
Jerrod Clark, IDL, Coastal Carolina (6-4, 340)
For uniform matchup lovers, this is the one. Coastal Carolina's teal and East Carolina's purple, it'll be picturesque on the football field—and fret not, the mascots make it even better with Chauncey the Chanticleer for Coastal and PeeDee the Pirate for ECU.
As for the football game, this will be the last game of the Jamey Chadwell era at Coastal, though he won't be coaching as he's already off to Liberty (and his QB for the last three years, Grayson McCall, will enter the portal after the game). But it'll be the last game for some of the players that were key cogs during Chadwell's tenure—the most successful era in school history with the program going 31-6 the last three years.
The biggest (physically) such player during that time has been nose tackle Jerrod Clark. Clark is the definition of a two-gapping run plug with his ability to anchor down and take on double teams to keep his linebackers clean against the run. He's also got some surprising lateral quickness to him that allows him to make plays around the line of scrimmage. Headed to the East-West Shrine Bowl, Clark is a nice Day 3 prospect for a team looking to bolster their run defense.
Joining Clark at the East-West Shrine Bowl will be Lance Boykin, he and fellow Chants cornerback D'Jordan Strong and receiver Sam Pinckney are all late Day 3/UDFA prospects to watch. On the Pirates, running back Keaton Mitchell is one of the best in the G5 and receivers Isaiah Winstead and CJ Johnson should get some looks with their size.
Guaranteed Rate Bowl- Wisconsin vs. Oklahoma State
Jason Taylor II, S, Oklahoma State (6-0, 215)
This is the bowl game for the underachievers, both these teams were expected to compete for their conferences and instead combined to go 13-11. On top of that, for the first time since 2014, the Wisconsin Badgers won't be coached by Paul Chryst in their bowl game (the program managed to land Luke Fickell to replace him though, slam dunk) and Oklahoma State will likely finished unranked for just the sixth time since 2008 under Mike Gundy.
The recent struggles of the two programs have led to an influx of opt-outs (Keeanu Benton, Nick Herbig, Joe Tippmann, Jay Shaw, Tyler Lacy) and transfers (Spencer Sanders, Mason Cobb) among their big named NFL Draft prospects.
With that being said, it gives prospects like Cowboys safety Jason Taylor II a bigger opportunity to impress scouts. Taylor II is a two-year starter whose cover instincts have led to big plays (8 INTs the last two years) and his size and physicality make him a threat over the middle to receivers and a productive run defender. He's a sleeper for teams looking for a well-rounded two-deep safety.
On Oklahoma State's offense, senior receiver Braydon Johnson is a big-play field-stretcher at Z and should get some looks as a UDFA. For the Badgers, with so many of their top talent opting out, offensive tackle Jack Nelson, running back Chez Mellusi, and defensive lineman Isaiah Mullens are the three to watch.
Military Bowl- UCF vs. Duke
Darius Joiner, S, Duke (6-2, 200)
Outside of TCU, there was no more impressive turnaround in college football this year than what Mike Elko has done with Duke. The Blue Devils were toiling the last three years under David Cutcliffe going 10-25, Elko went 8-4 in his first season in Durham after spending the previous four seasons as Texas A&M's defensive coordinator.
A catalyst for Duke's surge has been safety Darius Joiner, who transferred from Western Illinois after an FCS All-American season. Joiner is always around the football and Elko uses him as a chess piece (90 tackles, 7 TFLs, 3 sacks, 2 INTs this year), even playing him off the edge at times—though he does need to cleanup missed tackles. With fluid hips and range, Joiner is at his best when asked to play single-high.
Another transfer, and versatile defensive back, to watch is UCF's Divaad Wilson. The former Georgia Bulldog is versatile, rangy, and a willing tackler. A couple other Knights to watch are Tylan Grable and Ryan Swoboda at offensive tackle and receivers Kobe Hudson and Javon Baker, and four more Blue Devils are receiver Jalon Calhoun, linebacker Shaka Heyward, and defensive lineman DeWayne Carter and RJ Oben.
AutoZone Liberty Bowl- Kansas vs. Arkansas
Lonnie Phelps, EDGE, Kansaas (6-3, 245)
In just his second season, Lance Leipold has Kansas playing in their first bowl game since 2008. A big piece of getting the Jayhawks back to a bowl game is the way Leipold has utilized the transfer portal to inject talented into the program in the short-term.
One of the most important players to the success Kansas has found this year, and one of the most underrated pass rushers in the 2023 NFL Draft, has been Lonnie Phelps. Phelps transferred from Miami (OH) and his blend of twitch, fluidity, and hand speed has made him a dangerous speed rusher (he's also nasty with the speed-to-power). The redshirt junior had 10.5 TFLs and 7 sacks this year.
Arkansas will be without their top 2023 NFL Draft prospects (Drew Sanders, Ricky Stromberg, Jadon Haselwood) but Toledo transfer Matt Landers, LSU transfer Dwight McGlothern, and right tackle Dalton Wagner are all set to play. Watch for Jayhawks safety Kenny Logan Jr. too, he hits like a freight train.
SDCCU Holiday Bowl- North Carolina vs. No. 15 Oregon
Noah Sewell, LB, Oregon (6-2, 253)
There was a time earlier in the season that both these teams had a path to the College Football Playoff. Despite both falling short, that points to the amount of talent both North Carolina and Oregon have—this game won't be short for NFL Draft prospects.
One of the most well known prospects in the country is Oregon's Noah Sewell, brother of the Detroit Lions 2021 7th overall pick Penei Sewell. The Ducks linebacker came into the season with major hype after a star sophomore season but has struggled to build on it this year.
Given North Carolina's passing attack (led by potential 2024 first-round QB Drake Maye), this is a great opportunity for Sewell to show NFL evaluators he can play in space and be a playmaker on passing downs. A cement truck of a run defender, Sewell excels getting downhill and stacking and sheding linemen to make plays against the run—he's also a talented blitzer.
With Ducks star cornerback Christian Gonzalez opting out (as did pass rusher DJ Johnson), the prospects on the Ducks side include quarterback Bo Nix (who's set to return to Eugene for another season), linemen TJ Bass and Alex Forsyth, and defensive lineman Brandon Dorlus.
Tar Heels All-American receiver Josh Downs opted-out, but UNC receiver Antoine Green is heading to the East-West Shrine Game and will be leaned on heavily. Defensively for North Carolina, linebacker Cedric Gray and defensive lineman Myles Murphy are their biggest playmakers.
TaxAct Texas Bowl- Texas Tech vs. Ole Miss
Zach Evans, RB, Ole Miss (6-0, 215)
Talk about different head coaches, it's one of the biggest brand name head coaches in the country in Ole Miss' Lane Kiffin taking on Texas Tech's first-year head coach Joey McGuire (whose Texas high school ties are already coming up big for the Red Raiders). With Kiffin opting to spurn Auburn to stay in Oxford, the Rebels will be set when it comes to NFL Draft talent at the offensive skill positions for the foreseeable future.
One of those such talents is running back Zach Evans, who transferred to Ole Miss after two productive seasons at TCU—he was one of the top players in the portal last year. The former five-star has dealt with injuries, and the emergence of freshman running back Quinshon Judkins, this season but has still managed to produce 992 yards from scrimmage and 9 TDs in 11 games.
Assuming he plays in the bowl game, Evans can remind the nation why he's one of the five most talented running backs in this class. With his change of direction skills, burst, and contact balance, Evans is a home run waiting to happen. The knock that he's never been the bellcow in the backfield for a whole season also works as a positive—he's got fresh legs with just 282 carries in college (Bijan Robinson had 258 just this season).
Helping Evans out on offense are Senior Bowl bound guard Nick Broeker and receiver Jonathan Mingo and on the Rebels defense, linebacker Troy Brown, defensive linemen Tavius Robinson, Jared Ivey, and JJ Pegues, and defensive backs Isheem Young and Otis Reese. With Texas Tech star pass rusher Tyree Wilson out, watch linebacker Krishon Merriweather, cornerback Mailk Dunlap, and running back SaRodorick Thompson.
Bad Boy Mowers Pinstripe Bowl- Syracuse vs. Minnesota
John Michael Schmitz, C, Minnesota (6-4, 320)
Nothing better than a bowl game getting played in a baseball stadium, lucky Syracuse gets to make the short drive south to the Bronx to suit up in Yankees Stadium. This game is even better given Minnesota's Tanner Morgan (if he's healthy enough to play) and Syracuse's Garrett Shrader are two of the best bad college QBs in the country.
Both passers are fortunate to have two of the best offensive linemen in the 2023 NFL Draft protecting them, the Golden Gophers with center John Michael Schmitz and the Orange with left tackle, and Canadian, Matthew Bergeron—both are headed to the Senior Bowl.
With Bergeron opting out of the bowl game, all eyes will be on Schmitz, who's been one of the best centers in college football for multiple seasons. The rugged man in the middle of the Golden Gophers offensive line is a mauler who possesses the power to handle defensive tackles one-on-one in the run game with his leverage and drive, and in the pass with his vice grip hands and strong anchor. Schmitz is a Day 2 plug-and-play center with enough athleticism to complement his strength and nastiness to allow him to fit any scheme.
Both Bergeron and Schmitz are a big reason both Syracuse's Sean Tucker (opted-out of bowl game) and Minnesota's Mo Ibrahim are two of the most productive backs in the country (and both prospects). Other prospects are Syracuse linebacker Mikel Jones and Minnesota tight end Brevyn Spann-Ford and safety Tyler Nubin (who already announced he'd be returning for one more season at Minnesota).
Cheez-It Bowl- Oklahoma vs. No. 13 Florida State
Jared Verse, EDGE, Florida State (6-4, 248)
Two of the most historically successful programs in college football history playing in front of Prince Cheddward (the Cheez-It Bowl mascot) in a game where two players from each team will be staying in the "Feelin' the Cheeziest" hotel room the night prior? This is what bowl season is all about.
The game itself is made even more interesting by the trajectory of these two programs. In Brent Venables first year at the helm, the Sooners (6-6) have won less than 8 games for the first time since 1999, while Mike Norvell has the Seminoles (9-3) on the cusp of their first double digit win season since 2016.
To make matters worse for OU, most of their top NFL Draft prospects (Eric Gray, Anton Harrison, Wanya Morris, and Jalen Redmond) have opted-out of the game. Their top prospects expected to play are receiver Marvin Mims and tight end Brayden Willis (headed to the Senior Bowl)
Luckily for FSU, who've got more overall NFL talent this year than Oklahoma, it looks like their top prospects will play. Leading the way is Jared Verse, who looks to give the Seminoles back-to-back transfer pass rushers selected in the first-round (last year Jermaine Johnson transferred from Georgia to FSU and went onto be selected 26th overall by the New York Jets).
Verse came over from Albany, where he tallied 21.5 TFLs and 14.5 sacks in 15 games, and was viewed as one of the top portal players this past year. The redshirt sophomore hasn't disappointed in Tallahassee where his fist step quickness, ability to convert speed to power, consistent pass rush plan, and all-out effort have led to 14.5 TFLs and 7.5 sacks despite battling a knee injury for a chunk of the year.
Along with Verse, FSU's Jammie Robinson is a dude. Robinson, a Swiss Army knife defensive back, is headed to the Senior Bowl and brings a similar skill set to that of Houston Texans star rookie Jalen Pitre. Other Seminoles to watch include receiver Johnny Wilson, offensive tackle Robert Scott, running back Trey Benson, defensive tackle Fabien Lovett, and safety Akeem Dent.
Valero Alamo Bowl- No. 20 Texas vs. No. 12 Washington
Rome Odunze, WR, Washington (6-3, 201)
This will be the first matchup of bowl season between two ranked Power Five opponents as both programs try to get back on track.
Second-year Longhorns coach Steve Sarkisian will be trying to prove Texas is back for real this time and bring a 9-win season back to Austin for just the third time since 2010. While Huskies first-year boss Kalen DeBoer is looking for his 11th win and the Huskies best season since Chris Peterson took them to the playoff in 2016.
They'll presumably be in dramatically different situations entering the game though with both the Longhorns top offense and defensive prospect in the 2023 NFL Draft opting out—running back Bijan Robinson and linebacker DeMarvion Overshown. Texas will also be without Robinson's backup Roschon Johnson, one of the top senior RBs in the country (he's headed to the Senior Bowl).
For Washington, they got the good news two weeks ago that quarterback Michael Penix Jr. will be returning for another season after leading the country in passing yards (4,354). Two big reasons Penix Jr. hit the ground running after transferring from Indiana was because DeBoer was his OC during his most successful season in Bloomington, and due to the trio of pass catchers waiting for him in Seattle.
The most talented of the receiver group is Rome Odunze, a redshirt sophomore who was second in the Pac-12 in yards (1,088), third in catches (70), and sixth in TDs (7). Odunze is a fluid athlete that can get in and out of his breaks with ease despite being a bigger receiver. That size comes in handy in 50/50 situations too, where his body control, catch radius, and ball skills make him a terror.
In a weaker wide receiver class, Odunze could declare and very well end up one of the top five receivers in the 2023 NFL Draft thanks to his athleticism, production, and potential.
Along with Odunze, Huskies receivers Jalen McMillan and Ja'Lynn Polk have NFL futures. Offensive linemen Henry Bainvialu and Jaxson Kirkland and defensive linemen Bralen Trice, Jeremiah Martin, Zion Fetui-Tupuoloa, and Tuli Letuligasenoa are other prospects for Washington.
Despite Texas being without their top prospects, cornerback D'Shawn Jamison, nose tackle Keondre Coburn, defensive lineman Moro Ojomo are all expected to play—the three of them are East-West Shrine Game bound. Linebacker Jaylan Ford and cornerback Ryan Watts are two juniors to watch too.