2023 NFL Draft: Reviewing team needs in the AFC East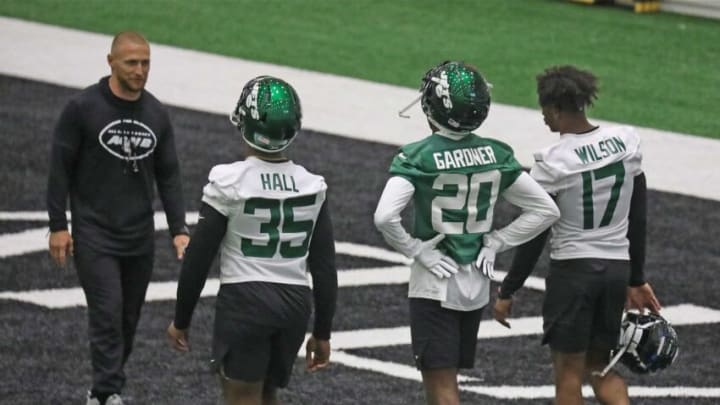 Running back Breece Hall, cornerback Sauce Gardner and wide receiver Garrett Wilson took part in the New York Jets Rookie Camp, held at their practice facility in Florham Park, NJ on May 6, 2022.The New York Jets Held Rookie Camp At Their Practice Facility In Florham Park Nj On May 6 2022 /
While several teams are jostling for playoff position, others are getting dangerously close to their offseason. While some fanbases may disagree with this notion, your favorite franchise generally doesn't enjoy drafting in the top five, year in and year out. The offseason offers teams an opportunity to alter their course. Suitably held in spring, the NFL Draft similarly affords the chance to start anew.
There are a few different approaches to roster-building, based on the timeline of a team's cornerstone players. For the most part, though, it's widely accepted that the best way to build a perennial contender is through drafting and developing your own.
While mock draft season is already beginning in some circles, I am going to kick off with a series on draft needs before progressing into player spotlights and mock drafts. We will start with the AFC East.
2023 NFL Draft: New York Jets
In the 2022 NFL Draft, the New York Jets couldn't have done much better. After selecting Sauce Gardner, Garrett Wilson, and Jermaine Johnson II in the first round, analysts raved about the Jets' draft class. The 2022 season has only made analysts and the Jets fanbase more giddy about the future.
Sauce Gardner has lived up to every expectation and then some. He has immediately cemented himself among the league's elite cornerbacks and will likely be awarded with DROY honors as a result. On the other side of the ball, Garrett Wilson has had an outstanding rookie season in spite of a challenging quarterback carousel. He will likely finish in the top two for the OROY award, fairly neck-and-neck with Seattle Seahawks running back Kenneth Walker III. Meanwhile, prior to tearing his ACL in Week 7, the Jets' second-round back Breece Hall was the favorite to bring home the OROY hardware.
The Jets have also gotten contributions from Johnson II, Max Mitchell, Micheal Clemons, and even undrafted back Zonovan Knight. Topping their 2022 rookie class will be a challenge, no question. This is a team on the rise, but certainly not a team without needs.
Top Draft Needs: OT, IOL, LB
The obvious question mark is at quarterback. Simply put, Zach Wilson has not looked like the answer and I can't see this team hitching their wagon to Mike White as the long-term solution either. However, this team is ready to compete next year, and I believe QB will be addressed via free agency. I can't see the Jets drafting another quarterback early and starting them immediately, especially after Mike LaFleur acknowledged recently that Wilson would have benefitted from serving as a backup initially.
The Jets desperately need help across their offensive line. Fans are hopeful that Mekhi Becton and Alijah Vera-Tucker can return from injury and play to their potential, but George Fant is expected to walk in free agency. With young talent at key skill positions, the Jets need high-level play from their offensive line. This season, they've routinely graded as one of the worst units.
Linebacker should also be addressed. Both Kwon Alexander and Quincy Williams could potentially hit free agency. While a tackling machine, C.J. Mosley remains a liability in the pass game. In a pass-heavy AFC where the Jets hope to compete ASAP, I believe the Jets will prioritize the linebacker position.