2023 NFL Draft: Reviewing team needs in the AFC East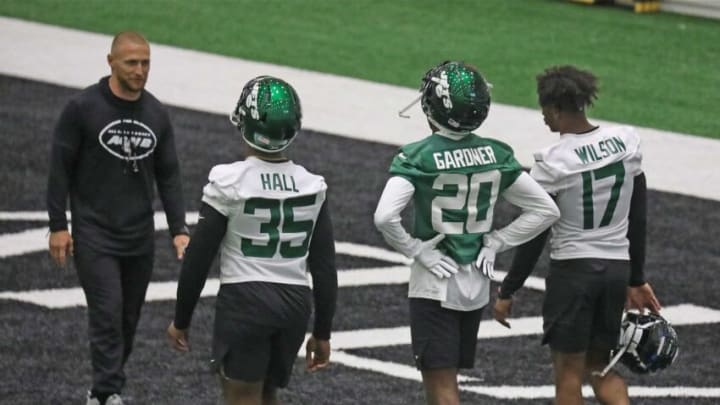 Running back Breece Hall, cornerback Sauce Gardner and wide receiver Garrett Wilson took part in the New York Jets Rookie Camp, held at their practice facility in Florham Park, NJ on May 6, 2022.The New York Jets Held Rookie Camp At Their Practice Facility In Florham Park Nj On May 6 2022 /
2023 NFL Draft: Miami Dolphins
The Miami Dolphins boast an electric mix of talent on the offensive side of the ball, impact players on the defensive side of the ball, and one of the most enticing up-and-coming coaches in the league. I find it really hard to believe those silly rumors of Mike McDaniel being on the hot seat.
The Dolphins started the season strong, looking like one of the few teams to beat in the AFC. Injuries at quarterback have unraveled that early-season success. After starting 8-5, the Dolphins have now lost five straight games and head into Week 18 needing a win over the New York Jets (plus some help) for a playoff berth. This team likely doesn't have enough to get over the hump this season, but with a solid draft in 2023, they have a shot to compete with anyone.
Last year, the Dolphins had their smallest draft class in franchise history, making only four selections. Heading into this year's draft, the Fins will also be short-handed. Earlier this season, the Dolphins traded one first round pick to the Broncos for Bradley Chubb. Meanwhile, they forfeited their other first round selection after an NFL investigation into tampering. Another roster looking to win now, the Dolphins must make the most of their selections to fill their holes.
Top Draft Needs: RB, OL, CB
The Miami Dolphins need a running back. The hallmarks of a Mike McDaniel offense are the wide zone running game and West Coast passing game. There was hope in Miami that Raheem Mostert or Jeff Wilson Jr. could be a fit, given their familiarity with McDaniel's scheme in San Francisco, but they have been largely ineffective this season. Miami is one of only seven teams to average less than 100 yards rushing per game (95.3). On top of that, the Dolphins do not have a single running back under contract beyond this year.
The offensive line should be addressed as well. The Dolphins could use help on both the interior and at tackle. Tua Tagovailoa has proven to be an effective quarterback when given time to throw; the Dolphins should do everything they can to ensure Tua stays upright. Cornerback should also be prioritized, as it appears Byron Jones is done in Miami. The passing defense ranks 27th, allowing 240.2 passing yards per game; frankly, the Dolphins may look for safety help as well.