Seattle Seahawks Mock Draft: Should they take a QB?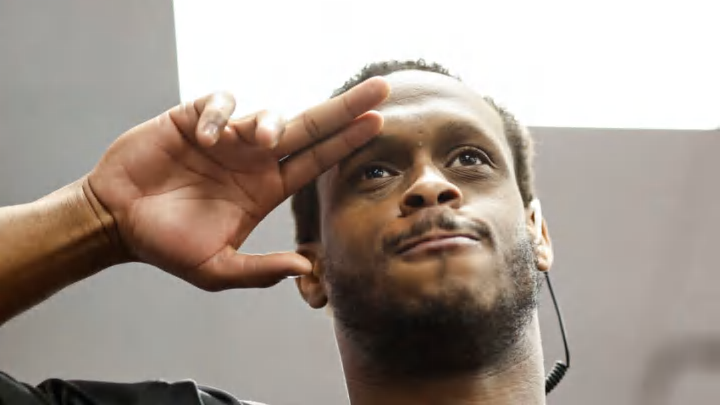 LAS VEGAS, NEVADA - FEBRUARY 05: LAS VEGAS, NEVADA - FEBRUARY 05: NFC quarterback Geno Smith #7 of the Seattle Seahawks reacts in the locker room prior to an NFL Pro Bowl football game at Allegiant Stadium on February 05, 2023 in Las Vegas, Nevada. (Photo by Michael Owens/Getty Images) /
The Seattle Seahawks have an interesting situation on their hands as they approach the 2023 NFL Draft. Should they take QB with their top pick?  I actually think there's a a great argument for Seattle drafting a QB.
They currently have the fifth overall pick by way of the Denver Broncos in the Russell Wilson trade.  They went 9-8 last year and made the playoffs, and if they can fix their defense a bit, this team can compete in the division next year.
However, that does hinge on Geno Smith being able to do what he did in 2022.  There has been quite a few situations in the NFL with backup caliber quarterbacks having a surprisingly good season in one year before returning to their normal self the next year.
If Smith is another one of those stories, then the Seahawks are in deep trouble, but even if he isn't he's 33 years old in October, so that could push Seattle to take a QB.
Seattle Seahawks Mock Draft: Should they take a QB?
5th overall: Anthony Richardson, QB, Florida
Anthony Richardson falls into their lap with the fifth overall pick, and he might be the perfect choice for them.  He needs some serious polishing, and perhaps sitting behind Geno Smith for a year or two can help that.
This is a scenario where Richardson does not have to play immediately, and I think that will have huge benefits for him.
20th overall:  Bryan Bresee, DT, Clemson
The Seahawks need to improve up front, and Bryan Bresee falling to 20 in this mock draft, using PFN's Mock Draft Simulator, is quite nice.  The team signed Dre'Mont Jones in free agency and could continue to add to their defensive front with the Bresee selection.
37th overall: O'Cyrus Torrence, OG, Florida
The Seahawks pick another Florida player with the selection of O'Cyrus Torrence, who can be a day one starter in Gabe Jackson's spot.  Jackson was let go by the Seahawks earlier this offseason.
52nd overall: Jack Campbell, LB, Iowa
How about an old school midwestern linebacker?  Jack Campbell has insane size and athleticism and even though Bobby Wagner did return to the Seahawks on a one year deal, adding more firepower in the middle of the defense is a sensational idea.
Seattle's defense was one of the worst in the NFL last year.
Jamal Adams is not good at playing safety, folks, and I think what Battle does well is quite the opposite of what Adams does well.  He's smart, instinctive, can play in coverage, and can even lineup in the slot.  He's got adequate size and nice speed as well, and I think could be a day one starter for them.
123rd overall: Tyler Steen, OT, Alabama
151st overall: Moro Ojomo, DT, Texas
154th overall: Jarrett Patterson, OG, Notre Dame
198th overall: Dante Stills, DT, West Virginia
237th overall: Malik Cunningham, QB, Louisville
The rest of the draft hits on some more immediate needs and potential long-term needs as well.  Taking two more offensive linemen could pay off well in the future and could bode well for the future QB after Geno Smith.
Adding two defensive tackles furthers the idea that the Seattle Seahawks need to improve their defense as well.