NFL Offseason 2023: Which teams have the most cap space?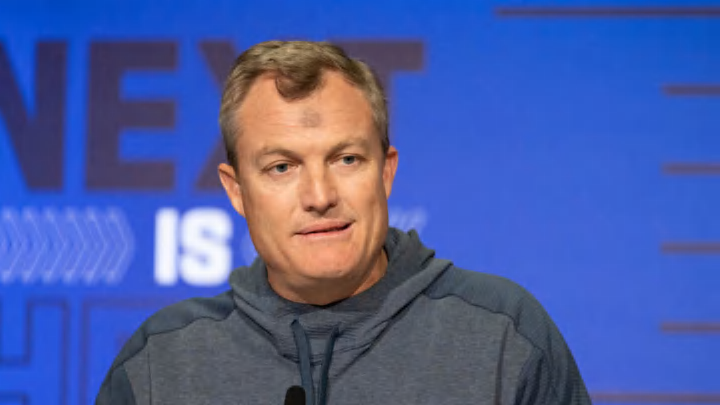 Mar 2, 2022; Indianapolis, IN, USA; San Fransisco 49ers general manager John Lynch talks to the media during the 2022 NFL Combine. Mandatory Credit: Trevor Ruszkowski-USA TODAY Sports /
The 2023 NFL offseason has gotten off to a wild start. As we approach the 2023 NFL Draft, which teams have the most remaining cap space?  The main waves of free agency are over and teams are beginning to finalize their boards for the NFL Draft.
However, there are still quite a few talented free agents left and many of them will likely be signed after the draft.  Teams like to try to fill the remaining holes on their roster during the draft, and what they can't get to is usually reserved for the free agency ways after the multi-day draft.
There are still quite a few teams that have plenty cap space to make additional moves at some point during the rest of the offseason.
Let's check out the teams who have the most remaining cap space according to spotrac.com
NFL Offseason 2023: Which teams have the most cap space?
1.  Chicago Bears – $38.76 million
The Chicago Bears have been very active in free agency making additions to both sides of the ball, and with a whopping four picks inside the top 65, expect the Bears to use those picks to fill the remaining holes on their roster.
But also don't rule out a few more mid-tier free agent signings, either.
2. Carolina Panthers – $27.98 million
The Carolina Panthers have had a stellar offseason in my opinion.  They hired Frank Reich as their new head coach who has filled his staff with exceptional coaches.  They've made savvy moves in free agency but haven't broken the bank either.
With the first overall pick in the 2023 NFL Draft, whatever QB they take is set to be in great hands.
3. Detroit Lions – $25.54 million
The Detroit Lions had needs along their defense, especially in their secondary, and have filled those needs quite well, signing Cam Sutton, Emmanuel Moseley, and CJ Gardner-Johnson.  This team is probably going to win the the NFC North in 2023 if the defense can take a step forward.
4. Houston Texans – $25.04 million
It seems like the Texans' habits in recent years have been to sign as many free agents as possible.  This year is no different, but even with that, Houston does have a ton of space remaining.  Their two biggest moves have been extending star left tackle Laremy Tunsil and trading Brandin Cooks to the Dallas Cowboys.
5. Green Bay Packers – $22.85 million
We'll see if the Green Bay Packers and the New York Jets can come together and agree on terms for the Aaron Rodgers' trade.  This would be one of the more significant QB trades the NFL has seen in a while, and part of me kind of thinks that there's a chance the deal doesn't get done.
Green Bay should have more cap space once Rodgers is off of their books.