2024 Senior Bowl Watchlist Announced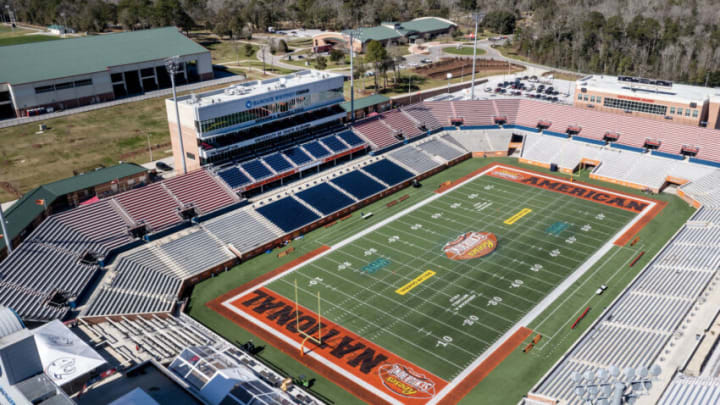 Feb 3, 2023; Mobile, AL, USA; Stadium and signage photos as Senior Bowl practice pauses the day before the game at Hancock Whitney Stadium. Mandatory Credit: Vasha Hunt-USA TODAY Sports /
The Senior Bowl has been and will most likely always be the centerpiece of the scouting community, both for NFL teams and media alike. The process to create that roster starts before the yearly game is even played as Senior Bowl Director Jim Nagy and his staff direct a machine that seemingly never sleeps.
The watchlist for the Senior Bowl is usually very hearty before the season starts, it has to be. Much like how a team builds a draft board, their scouting staff has to make cuts throughout the year.
For now though, here is the 2024 Senior Bowl watchlist by position before the kick-off to the new college football season.
Senior Bowl Quarterbacks
KJ Jefferson, Arkansas
Payton Thorne, Auburn
Blake Shapen, Baylor
Kedon Slovis, BYU
John Rhys Plumlee, UCF
Grayson McCall, Coastal Carolina
Parker McKinney, Eastern Kentucky
Graham Mertz, Florida
Jordan Travis, Florida State
Carson Beck, Georgia
Cade McNamara, Iowa
Jalon Daniels, Kansas
Will Howard, Kansas State
Devin Leary, Kentucky
Jack Plummer, Louisville
Jayden Daniels, LSU
Taulia Tagovailoa, Maryland
Tyler Van Dyke, Miami (FL)
Will Rogers, Mississippi State
Davius Richard, North Carolina Central
Brennan Armstrong, NC State
Rocky Lombardi, Northern Illinois
Theo Day, Northern Iowa
Ben Bryant, Northwestern
Sam Hartman, Notre Dame
Kurtis Rourke, Ohio
Dillon Gabriel, Oklahoma
Alan Bowman, Oklahoma State
Bo Nix, Oregon
DJ Uiagalelei, Oregon State
Phil Jurkovec, Pittsburgh
Hudson Card, Purdue
JT Daniels, Rice
Michael Hiers, Samford
Carter Bradley, South Alabama
Spencer Rattler, South Carolina
Gerry Bohanon, USF
Garrett Shrader, Syracuse
Joe Milton III, Tennessee
Tyler Shough, Texas Tech
Michael Pratt, Tulane
Cameron Rising, Utah
Gavin Hardison, UTSA
Michael Penix Jr., Washington
Cameron Ward, Washington State
Austin Reed, Western Kentucky
Tanner Mordecai, Wisconsin
Senior Bowl Running Backs
Roydell Williams, Alabama
Jase Mcclellan, Alabama
Jarveon Howard, Alcorn State
Nate Noel, Appalachian State
Michael Wiley, Arizona
Cameron Skattebo, Arizona State
George Holani, Boise State
Ailym Ford, Chattanooga
Trey Benson, Florida State
Kendall Milton, Georgia
Daijun Edwards, Georgia
Jalen White, Georgia Southern
Reggie Love III, Illinois
Treshaun Ward, Kansas State
Ray Davis, Kentucky
Josh Williams, LSU
John Emery Jr., LSU
Noah Cain, LSU
Blake Corum, Michigan
Jo'Quaviou Marks, Mississippi State
Nathaniel Peat, Missouri
Anthony Grant, Nebraska
Dylan Laube, New Hampshire
Jordan Houston, NC State
Chip Trayanum, Ohio State
Miyan Williams, Ohio State
Ulysses Bentley IV, Ole Miss
Noah Whittington, Oregon
Deshaun Fenwick, Oregon State
Jaylan Knighton, SMU
Mario Anderson, South Carolina
Isaiah Davis, South Dakota State
Frank Gore Jr., Southern Mississippi
Trey Sanders, TCU
Jabari Small, Tennessee
Keilan Robinson, Texas
Tahj Brooks, Texas Tech
Jermaine Brown Jr., UAB
Donavyn Lester, UNLV
Justice Ellison, Wake Forest
Dillon Johnson, Washington
Nakia Watson, Washington State
Senior Bowl Wide Receivers
Jermaine Burton, Alabama
Jacob Cowing, Arizona
Xavier Guillory, Arizona State
Elijah Badger, Arizona State
Isaac Teslaa, Arkansas
Andrew Armstrong, Arkansas
Jyaire Shorter, Auburn
Ja'Varius Johnson, Auburn
Shane Hooks, Auburn
Ryan O'Keefe, Boston College
Javon Baker, Central Florida
Xzavier Henderson, Cincinnati
Xavier Weaver, Colorado
Tory Horton, Colorado State
Ricky Pearsall, Florida
Marcus Riley, Florida A&M
Je'Quan Burton, Florida Atlantic
Arian Smith, Georgia
Marcus Rosemy-Jacksaint, Georgia
Ladd Mcconkey, Georgia
Hayden Hatten, Idaho
Isaiah Williams, Illinois
Dimitri Stanley, Iowa State
Luke Grimm, Kansas
Tayvion Robinson, Kentucky
Tyrone Howell, Louisianna-Monroe
Devonte Lee, Louisianna Tech
Jamaru Thrash, Louisville
Kyren Lacy, LSU
Ty James, Mercer
Devron Harper, Mercer
Xavier Restrepo, Miami (FL)
Tyler Harrell, Miami (FL)
Roman Wilson, Michigan
Cornelius Johnson, Michigan
Tre Mosley, Michigan State
Chris Autman-Bell, Minnesota
Jaden Walley, Mississippi State
Justin Robinson, Mississippi State
Lideatrick Griffin, Mississippi State
Theo Wease Jr., Missouri
Wayne Ruby, Mount Union
Devontez Walker, North Carolina
Nate Mccollum, North Carolina
AJ Henning, Northwestern
Julian Fleming, Ohio State
Brennan Presley, Oklahoma State
Jordan Watkins, Ole Miss
Jalen Knox, Ole Miss
Tre Harris, Ole Miss
Zakhari Franklin, Ole Miss
Tez Johnson, Oregon
Kris Hutson, Oregon
Traeshon Holden, Oregon
Jesiah Irish, Oregon State
Anthony Gould, Oregon State
Silas Bolden, Oregon State
Keandre Lambert-Smith, Penn State
Dante Cephas, Penn State
Bub Means, Pittsburgh
Luke McCaffrey, Rice
Caullin Lacy, South Alabama
Antwane Wells Jr., South Carolina
Eddie Lewis, South Carolina
Xavier Legette, South Carolina
Ahmarean Brown, South Carolina
Jaxon Janke, South Dakota State
Jadon Janke, South Dakota State
Ryan Flournoy, SE Missouri State
Isaiah Wooden, Southern Utah
Jaylon Robinson, TCU
Savion Williams, TCU
Dylan Wright, TCU
Bru McCoy, Tennessee
Ramel Keyton, Tennessee
Isaiah Neyor, Texas
Jordan Whittington, Texas
Moose Muhammad III, Texas A&M
Ainias Smith, Texas A&M
Myles Price, Texas Tech
Devin Maddox, Toledo
Tejhaun Palmer, UAB
Tahj Washington, USC
Brenden Rice, USC
Joshua Cephus, UTSA
De'Corian Clark, UTSA
Will Sheppard, Vanderbilt
Da'Quan Felton, Virginia Tech
Ali Jennings, Virginia Tech
Jaylin Lane, Virginia Tech
Taylor Morin, Wake Forest
Donovan Greene, Wake Forest
Jalen McMillan, Washington
Rome Odunze, Washington
Malachi Corley, Western Kentucky
Chimere Dike, Wisconsin
Senior Bowl Tight Ends
Tanner McLachlan, Arizona
Jalin Conyers, Arizona State
Rivaldo Fairweather, Auburn
Isaac Rex, BYU
Dante Zanders, Florida
Johnny Wilson, Florida State
Jaheim Bell, Florida State
Dylan Leonard, Georgia Tech
Tip Reiman, Illinois
Luke Lachey, Iowa
Erick All, Iowa
DeShawn Hanika, Iowa State
Ben Sinnott, Kansas State
Corey Dyches, Maryland
AJ Barner, Michigan
Maliq Carr, Michigan State
Brevyn Spann-Ford, Minnesota
Alex Allen, Northern Iowa
Cade Stover, Ohio State
Austin Stogner, Oklahoma
Caden Prieskorn, Ole Miss
Tyler Warren, Penn State
Theo Johnson, Penn State
Garrett Miller, Purdue
Marshel Martin, Sacramento State
Joshua Simon, South Carolina
Trey Knox, South Carolina
Zach Harris, South Dakota State
Benjamin Yurosek, Stanford
Jared Wiley, TCU
McClallan Castles, Tennessee
Jacob Warren, Tennessee
Max Wright, Texas A&M
Baylor Cupp, Texas Tech
Brant Kuite, Utah
Thomas Yassmin, Utah
Sackett Wood Jr., Virginia
Senior Bowl Offensive Linemen
Seth McLaughlin, Alabama
Jordan Morgan, Arizona
Aaron Frost, Arizona State
Beaux Limmer, Arkansas
Brady Latham, Arkansas
Ty'Kieast Crawford, Arkansas
Dillon Wade, Auburn
Christian Mahogany, Boston College
Kyle Hergel, Boston College
Ian Fitzgerald, BYU
Caleb Etienne, BYU
Connor Pay, BYU
Matthew Cindric, California
Mike Edwards, Campbell
Tylan Grable, UCF
Will Putnam, Clemson
Gerard Christian-Lichtenhan, Colorado
Jacob Monk, Duke
Graham Barton, Duke
Josiah Ezirim, Eastern Kentucky
Kingsley Ehuakun, Florida
Robert Scott Jr., Florida State
Sedrick Van Pran, Georgia
Xavier Truss, Georgia
Jordan Williams, Georgia Tech
Jack Freeman, Houston
Patrick Paul, Houston
Anim Dankwah, Howard
Julian Pearl, Illinois
Isaiah Adams, Illinois
Zach Carpenter, Indiana
Matthew Bedford, Indiana
Mason Richman, Iowa
Logan Jones, Iowa
Jarrod Hufford, Iowa State
Clay Webb, Jacksonville State
Nick Kidwell, James Madison
Dominick Puni, Kansas
Mike Novitsky, Kansas
Cooper Beebe, Kansas State
Kenneth Horsey, Kentucky
Jeremy Flax, Kentucky
Marques Cox, Kentucky
Eli Cox, Kentucky
X'Zavea Gadlin, Liberty
AJ Gillie, Louisiana- Lafayette
Vincent Lumia, Louisville
Bryan Hudson, Louisville
Charles Turner III, LSU
Miles Frazier, LSU
Ethan Driskell, Marshall
Delmar Glaze, Maryland
Gottlieb Ayedze, Maryland
Zion Nelson, Miami (FL)
Matthew Lee, Miami (FL)
Javion Cohen, Miami (FL)
Zak Zinter, Michigan
Drake Nugent, Michigan
Trevor Keegan, Michigan
Trente Jones, Michigan
Myles Hinton, Michigan
Ladarius Henderson, Michigan
Karsen Barnhart, Michigan
Nick Samac, Michigan State
Spencer Brown, Michigan State
Quinn Carroll, Minnesota
Nathan Boe, Minnesota
Steven Losoya III, Mississippi State
Nick Jones, Mississippi State
Kameron Jones, Mississippi State
Cam'Ron Johnson, Missouri
Javon Foster, Missouri
Chris Walker, Montana
Ben Scott, Nebraska
Bryce Benhart, Nebraska
Torricelli Simpkins III, NC Central
Dylan McMahon, NC State
Anthony Belton, NC State
Jalen Sundell, North Dakota State
Jared Penning, Northern Iowa
Matthew Jones, Ohio State
Josh Fryar, Ohio State
Walter Rouse, Oklahoma
Andrew Raym, Oklahoma
McKade Mettauer, Oklahoma
Tyler Guyton, Oklahoma
Dalton Cooper, Oklahoma State
Caleb Warren, Ole Miss
Jeremy James, Ole Miss
Steven Jones, Oregon
Ajani Cornelius, Oregon
Jake Levengood, Oregon State
Joshua Gray, Oregon State
Taliese Fuaga, Oregon State
Henli Bloomfield, Oregon State
Caedan Wallace, Penn State
Olu Fashanu, Penn State
Matt Goncalves, Pittsburgh
Jalen Travis, Princeton
Gus Hartwig, Purdue
Nick Correia, Rhode Island
Ryan Coll, Richmond
Hollin Pierce, Rutgers
Curtis Dunlap Jr., Rutgers
Ireland Brown, Rutgers
Nik Gargiulo, South Carolina
Grant Smith, South Dakota Mines
Mason McCormick, South Dakota State
Garrett Greenfield, South Dakota State
Donovan Jennings, USF
Christopher Bleich, Syracuse
Andrew Coker, TCU
Brandon Coleman, TCU
Willis Patrick, TCU
Gerald Mincey, Tennessee
Cooper Mays, Tennessee
John Campbell Jr., Tennessee
Christian Jones, Texas
Layden Robinson, Texas A&M
Nash Jones, Texas State
Caleb Rogers, Texas Tech
Rusty Staats, Texas Tech
Cameron Wire, Tulane
Prince Pines, Tulane
Sincere Haynesworth, Tulane
Duke Clemens, UCLA
Christian Haynes, UConn
Michael Tarquin, USC
Emmanuel Pregnon, USC
Jonah Monheim, USC
Jarrett Kingston, USC
Justin Dedich, USC
Keaton Bills, Utah
Satoa Laumea, Utah
Michael Jurgens, Wake Forest
Troy Fautanu, Washington
Roger Rosengarten, Washington
Zach Frazier, West Virginia
Ja'Quay Hubbard, West Virginia
Doug Nester, West Virginia
Tanor Bortolini, Wisconsin
Jack Nelson, Wisconsin
Kiran Amegadjie, Yale
Senior Bowl Defensive Linemen
Tim Smith, Alabama
Justin Eboigbe, Alabama
Chris Baswell, Alabama
Taylor Upshaw, Arizona
John Morgan III, Arkansas
Traan Jeffcoat, Arkansas
Eric Gregory, Arkansas
Justin Rogers, Auburn
Elijah McCallister, Auburn
Gabe Hall, Baylor
Garmon Randolph, Baylor
Shitta Sillah, Boston College
Brett Johnson, California
Shaun Peterson, UCF
Tre'Mon Morris-Brash, UCF
Josh Celiscar, UCF
Ricky Barber, UCF
Julius Welschof, Charlotte
Eyabi Okie, Charlotte
Malik Vann, Cincinnati
Jowon Briggs, Cincinnati
Xavier Thomas, Clemson
Ruke Orhorhoro, Clemson
Justin Mascoll, Clemson
Tyler Davis, Clemson
Derrick McLendon II, Colorado
RJ Oben, Duke
Dewayne Carter, Duke
Deshawn McCarthy, East Stroudsburg
Princely Umanmielen, Florida
Cam Jackson, Florida
Evan Anderson, Florida Atlantic
Jared Verse, Florida State
Fabien Lovett Sr., Florida State
Braden Fiske, Florida State
Dennis Briggs Jr., Florida State
Ty French, Gardner-Webb
Tramel Walthour, Georgia
Nazir Stackhouse, Georgia
Zion Logue, Georgia
Warren Brinson, Georgia
Sylvain Yondjouen, Georgia Tech
Sundiata Anderson, Grambling State
Thor Griffith, Harvard
Nelson Ceaser, Houston
Chidozie Nwankwo, Houston
Keith Randolph Jr., Illinois
Jer'Zhan Newton, Illinois
Ledarrius Cox, Indiana
Andr Carter, Indiana
Phillip Blidi, Indiana
Logan Lee, Iowa
Deontae Craig, Iowa
Octavious Oxendine, Kentucky
Andre Jefferson, Lenoir Rhyne
Jermayne Lole, Louisville
Bradyn Swinson, LSU
Ovie Oghoufo, LSU
Jordan Jefferson, LSU
Jacobian Guillory, LSU
Akheem Mesidor, Miami (FL)
Jared Harrison-Hunte, Miami (FL)
Branson Deen, Miami (FL)
Braiden Mcgregor, Michigan
Kis Jenkins Jr., Michigan
Jaylen Harrell, Michigan
Jacoby Windmon, Michigan State
Simeon Barrow Jr., Michigan State
Nathan Pickering, Mississippi State
Jaden Crumedy, Mississippi State
Darius Robinson, Missouri
Ty Robinson, Nebraska
Kaimon Rucker, North Carolina
Myles Murphy, North Carolina
Desmond Evans, North Carolina
Davin Vann, NC State
Savion Jackson, NC State
Rylie Mills, Notre Dame
Nana Osafo-Mensah, Notre Dame
Ty Hamilton, Ohio State
Trace Ford, Oklahoma
Rondell Bothroyd, Oklahoma
Isaac Ukwu, Ole Miss
JJ Pegues, Ole Miss
Cedric Johnson, Ole Miss
Jared Ivey, Ole Miss
Taki Taimani, Oregon
Brandon Dorlus, Oregon
Jordan Burch, Oregon
Popo Aumavae, Oregon
Andrew Chatfield Jr., Oregon State
Jordan Van den berg, Penn State
Adisa Isaac, Penn State
Hakeem Beamon, Penn State
Isaiah Nichols, Purdue
Josh Pearcy, Rice
Aaron Lewis, Rutgers
Wesley Bailey, Rutgers
Elijah Chatman, SMU
DeVere Levelsron, SMU
Jordan Miller, SMU
Wy'Kevious Thomas, South Alabama
Jordan Strachan, South Carolina
Tyreek Johnson, South Carolina
Tonka Hemingway, South Carolina
Drew Tuazama, South Carolina
Tyrik Mitchell, SE Louisiana
Robert Horsey, Southern Utah
Tyler Baron, Tennessee
Omari Thomas, Tennessee
Alfred Collins, Texas
Fadil Diggs, Texas A&M
McKinnley Jackson, Texas A&M
Myles Cole, Texas Tech
Steve Linton, Texas Tech
Jaylon Hutching, Texas Tech
Jesus Gibbs, Towson
Javon Solomon, Troy
Richard Jibunor, Troy
Javon Solomon, Troy
Laiatu Latu, UCLA
Eric Watts, UConn
Tyrone Taleni, USC
Jack Sullivan, USC
Solomon Byrd, USC
Kyon Barrs, USC
Daylan Dotson, UT-Martin
Connor O'Toole, Utah
Junior Tafuna, Utah
Praise Amaewhule, UTEP
Joe Evans, UTSA
Chico Bennett Jr., Virginia
Kameron Butler, Virginia
Jahmeer Carter, Virginia
Jasheen Davis, Wake Forest
Bralen Trice, Washington
Zio Tupuola-Fetui, Washington
Brennan Jackson, Washington State
Ron Stone Jr. Washington State
Sean Martin, West Virginia
John Pius, Williama & Mary
Isaiah Mullens, Wisconsin
Justin Blazek, Wisconsin-Platteville
Senior Bowl Linebackers
Larry Nixon III, Auburn
Jalen McLeod, Auburn
Matt Jones, Baylor
Mike Smith Jr., Baylor
Ben Bywater, BYU
Max Tooley, BYU
Jackson Sirmon, California
Brendan Grant, Colorado
Teradja Mitchell, Florida
Kalen Deloach, Florida State
Tatum Bethune, Florida State
Jacob Dobbs, Holy Cross
David Ugwoegbu, Houston
Seth Coleman, Illinois
Tarique Barnes, Illinois
Jacob Mangum-Farrar, Indiana
Aaron Casey, Indiana
Nick Jackson, Iowa
Craig Young, Kansas
Khalid Duke, Kansas State
JJ Weaver, Kentucky
Omar Speights, LSU
Michael Barrett, Michigan
Aaron Brule, Michigan State
Nathaniel Watson, Mississippi State
Ty'Ron Harper, Missouri
Chad Bailey, Missouri
Luke Reimer, Nebraska
Cedric Gray, North Carolina
Payton Wilson, NC State
David Hoage, Northern Colorado
Xander Mueller, Northwestern
Marist Liufau, Notre Dame
JD Bertrand, Notre Dame
Cody Simon, Ohio State
Tommy Eichenberg, Ohio State
Steele Chambers, Ohio State
Monty Montgomery, Ole Miss
Jeremiah Jean-Baptiste, Ole Miss
Khari Coleman, Ole Miss
Jestin Jacobs, Oregon
Mase Funa, Oregon
Curtis Jacobs, Penn State
Tyler Elsdon, Penn State
Tyreem Powell, Rutgers
Trevor Williams, Sam Houston
Debo Williams, South Carolina
Marlowe Wax, Syracuse
Jamoi Hodge, TCU
Jordan Magee, Temple
Roman Harrison, Tennessee
Aaron Beasley, Tennessee
Keenan Pili, Tennessee
Jayla Ford, Texas
Edgerrin Cooper, Texas A&M
Chris Russell Jr., Texas A&M
Jonjon Vaughns, UCLA
Darius Muasau, UCLA
Jackson Mitchell, UConn
Shane Lee, USC
Mason Cobb, USC
De'Ricey Wright, Vanderbilt
AlanTisdale, Virginia Tech
Edefuan Ulofoshio, Washington
Winston Reid, Weber State
Lee Kpogba, West Virginia
Maema Njongmeta, Wisconsin
Jordan Turner, Wisconsin
Easton Gibbs, Wyoming
Senior Bowl Defensive Backs
Trey Taylor, Air Force
Malachi Moore, Alabama
Trey Amos, Alabama
Ro Torrence, Arizona State
Alfahiym Walcott, Arkansas
Dwight McGlothern, Arkansas
Lorando Johnson, Arkansas
Hudson Clark, Arkansas
Jaylin Simpson, Auburn
Keionte Scott, Auburn
Nehemiah Pritchett, Auburn
DJ James, Auburn
Nohl Williams, California
Craig Woodson, California
Patrick McMorris, California
Isaiah Greene, Campbell
Decorian Patterson, UCF
Clay Fields, Chatanooga
Deshawn Pace, Cincinnati
Jayln Phillips, Clemson
Shilo Sanders, Colorado
Myles Jones, Duke
RJ Moten, Florida
Jaydon Hill, Florida
Javan Morgan, Florida A&M
Kedall Bohler, Florida A&M
Renardo Green, Florida State
Akeem Dent, Florida State
Fentrell Cypress II, Florida State'
Tykee Smith, Georgia
Lamiles Brooks, Georgia Tech
Kenyatta Watson II, Georgia Tech
Malik Fleming, Houston
Jalyx Hunt, Houston Christian
Tahveon Nicholson, Illinois
Nicario Harper, Illinois
Jermari Harris, Iowa
TJ Tamp, Iowa State
Kenny Logan Jr., Kansas
Andru Phillips, Kentucky
Zion Childress, Kentucky
Kobe Singleton, Liberty
Quincy Riley, Louisville
Storm Duck, Louisville
Jarvis Brownlee Jr., Louisville
Andre Sam, LSU
Major Burns, LSU
Greg Brooks Jr., LSU
Zy Alexander, LSU
Tarheeb Still, Maryland
Ja'Quan Sheppard, Maryland
Beau Brade, Maryland
Jaden Davis, Miami (FL)
Te'Cory Couch, Miami (FL)
Davonte Brown, Miami (FL)
Josh Wallace, Michigan
Mike Sainristil, Michigan
Makari Paige, Michigan
Tra Fluellen, Middle Tennessee
Tyler Nubin, Minnesota
Trey Vaval, Minnesota State-Manakato
Decamerion Richardson, Mississippi State
Ennis Rakestraw Jr., Missouri
Joseph Charleston, Missouri
Jaylon Carlies, Missouri
Kris Abrams-Draine, Missouri
Quinton Newsone, Nebraska
Aydan White, NC State
Shyheim Battle, NC State
Garnett Hollis Jr., Northwestern
Cam Hart, Notre Dame
Thomas Harper, Notre Dame
Antonio Carter II, Notre Dame
Lathan Ransom, Ohio State
Josh Proctor, Ohio State
Reggie Pearson, Oklahoma
Zamari Walton, Ole Miss
John  Saunders Jr., Ole Miss
Deantre Prince, Ole Miss
Deshawn Gaddie, Ole Miss
Daijahn Anthony, Ole Miss
Evan Williams, Oregon
Steve Stephens IV, Oregon
Khyree Jackson, Oregon
Jamal Hill, Oregon
Kitan Oladapo, Oregon State
Keaton Ellis, Penn State
Johnny Dixon, Penn State
Aj Woods, Pittsburgh
MJ Devonshire, Pittsburgh
Sanoussi Kane, Purdue
Max Melton, Rutgers
Brandon Crossley, SMU
Yam Banks, South Alabama
David Spaulding, South Carolina
Marcellas Dial, South Carolina
Myles Harden, South Dakota
PJ Jules, Southern Illinois
Isaiah Johnson, Syracuse
Nook Bradford, TCU
Abe Camara, TCU
Bud Clark, TCU
Josh Newton, TCU
Mark Perry, TCU
Tamarion McDonald, Tennessee
Jayln McCollough, Tennessee
Kamal Hadden, Tennessee
Warren Burrell, Tennessee
Jahdae Barron, Texas
Jalen Catalon, Texas
Kitan Crawford, Texas
Jerrin Thompson, Texas
Ryan Watts, Texas
Josh Deberry, Texas A&M
Tony Grimes, Texas A&M
Demani Richardson, Texas A&M
Dadrion Taylor-Demerson, Texas Tech
Tyler Owens, Texas Tech
Quinyon Mitchell, Toledo
Maxen Hook, Toledo
Reddy Steward, Troy
Jarius Monroe, Tulane
Christian Roland-Wallace, USC
Miles Battle, Utah
Zemaiah Vaughn, Utah
Jaylen Mahoney, Vanderbilt
Malcolm Greene, Virginia
Willie Drew, Virginia State
Malik Mustapaha, Wake Forest
Caelen Carson, Wake Forest
Jabbar Muhammad, Washington
Sam Lockett III, Washington State
Chau Smith-Wade, Washington State
Travian Blaylock, Wisconsin
Jason Maitre, Wisconsin