2017 NFL Draft: overrated NFL draft prospects
With interest in the 2017 NFL draft rising, let's take a look at 5 prospects that I believe are overhyped and/or overrated.
These are prospects who need to show me something in 2016 to justify their high(er) draft stock.
1-Raekwon McMillan, LB Ohio State
After watching McMillan in 6 games from 2015, I'm completely unimpressed. His biggest problem is a total lack of speed/quickness. He does a great job lining up a defense and can make a number of tackles vs the run but I don't see anything more than a 4th round pick unless his other games were much better.
He gets lost in coverage (watch the bowl game vs Notre Dame for great examples of this), is too slow to blitz and can't range from sideline to sideline.
He made an obscene number of tackles in 2015, but I'm guessing this was largely because he was surrounded by a ton of talent that opposing teams were trying to run away from.
The draftniks are calling him a top 10 pick, a definite first rounder…what are they seeing here? I don't understand how McMillan can start in the NFL except as a rundown Mike backer in a 3-4 defense.
2-Jabrill Peppers, S/LB Michigan
Peppers has an amazing galaxy of talent to draw from, that's completely undeniable. He can hit like a linebacker, but has the speed of an outside cornerback. And draftniks and scouts are starting to drool over his raw potential.
But the comparisons to Jalen Ramsey are frankly absurd. Ramsey had the same freakish athleticism but Ramsey had two legs up on Peppers: 1-he was very polished for his position. He has great cover skills, instincts, range and football IQ. 2-He stayed at the same basic position his entire time in college.
Peppers is moving from safety to a linebacker hybrid role this season. He realistically needs 2 full seasons at Michigan to be as polished as Ramsey was coming out of FSU and that's assuming he's able to develop his skills.
Watching the tape on Peppers what stands out is that he should move to RB or WR, he looks far more polished on that side of the ball. And that he struggles when asked to cover on the 3rd level of the defense. He's a very good tackler who can do well guarding a hashmark, but he just lacks Ramsey's instincts in space.
3-Josh Dobbs, QB Tennessee
It speaks to the influence of highlights on ESPN that Dobbs is even considered draftable in 2017 NFL Draft. He's not. He is simply not good enough for the NFL right now as he heads into the 2016 college football season.
He has some arm talent, but as the usual litany of issues that dual threat quarterbacks that play in option/spread/veer systems always seem to have. He struggles when blitzed, his footwork is a mess and his mechanics are horrid.
On top of this, his ball placement can be quite bad. On medium passes, he's at his best but if he's asked to throw it into the flat he'll be throwing at the target's feet because he refuses to set his feet most times. These mechanical issues cause him to float deep balls or put them in places that the receiver is incapable of catching it.
Where the draftable tool is with him, I have no idea. But I'm fairly sure that he could be a day 2 pick just because of the dearth of pro-ready passing talent in the next few drafts.
4-Deshawn Watson, QB Clemson
Watson, by all accounts, is a guy with his head on straight and does things the right way. He works hard and has made himself one of the premier players in college football. As a Gamecocks alum, he's the bane of my existence right now.
But putting aside my personal feelings for him: it is absolute insanity that he's seen as the top quarterback prospect by a large number of draftniks. As a passer he's much closer to Vince Young than he is to Cam Newton.
This isn't to say that he can't become a successful NFL quarterback. He clearly has the potential and who knows how his 2016 season will go. The problem is that the league, even recently, is littered with examples of option-spread passers who just don't have the developed skills to deal with NFL caliber defenses.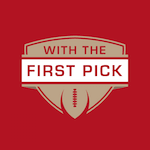 Want your voice heard? Join the With The First Pick team!
Write for us!
And there's not much in Watson's tape to suggest that he'll be any different.
I'm much more comfortable with the idea of Watson as a late first/early 2nd pick. If he's a top 3 pick, then buckle up because the ride will be rocky for whatever NFL team takes him that high.
5-Quin Blanding, DB Virginia
Not impressed by Blanding either. He plays a ton of single high/slot for the Cavs. He likes to try and bring the wood, which sometimes works for him. And in deep coverage against college wideouts, he can be decent.
He is not very good vs the run and doesn't have elite speed to cover deep consistently. He also takes bad angles in run support and doesn't anticipate plays well(which could mean that he doesn't spend a lot of time in the film room).
If a team can hide his flaws in the right system, perhaps with something along the lines of what the Redskins did in 2015 with Goldson/Jarrett where they played a FS who plays higher up and a Single high safety who played farther deep then maybe he's an NFL starter but it's bizarre to see him mentioned as a top 30 prospect in this draft.