Quarterbacks In Need of a Developmental League
The NFL is in need of a developmental league to help the quarterback crises.
The NFL has a nasty habit of throwing away players who don't produce within their rookie contract. Many players aren't lucky enough to make it to the end of their contracts and it's hindered the development of certain positions. The NFL needs a Developmental League which could help rookies progress while getting valuable in-game reps.
Due to the NFL's need of quarterbacks, it makes sense to organize such a league in hope of developing young players. Some quarterbacks show the potential to become a starter despite being a mid to late round pick. Here's a look at three incoming quarterbacks who could use a year of an NFL D league:
Brad Kaaya, Detroit Lions (Pick 215, 6th Round, University of Miami)
Brad Kaaya is a great example of a talented player who needs another year to show his talents. Leaving Miami seemed like a great choice at the time. Many expected him to go as high as the second round when he declared after his Junior season.
As the draft process continued, Kaaya didn't seem to have a team "fall for him". The gamble to come out early would be much easier to swallow if given the chance to get game reps. And if given the chance to play under an NFL system for a season of grooming, Kaaya would show his ability to become an starter in the league.
Chad Kelly, Denver Broncos (Pick 253, 7th Round, Ole Miss)
While a developmental league would be beneficial for players to gain experience and learning a system, it could help certain players shed their past. A player like Chad Kelly dropped in the draft not because of talent, but because of off the field issues and injuries. Tearing his ACL in the beginning of his senior season at Ole Miss would cost him a season of tape and proving to scouts he's an NFL caliber quarterback.
Also, Chad has had his share of off season issues. Being arrested in 2014, and being kicked off Clemson during his freshmen season. A developmental league would give him a chance to shine and show off his play making ability and maturity.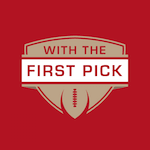 Want your voice heard? Join the With The First Pick team!
Write for us!
Davis Webb, New York Giants (Pick 87, 3rd Round, California)
Davis Webb is a guy who needs a year or two in a pro style offense. Webb spent his entire college career in high powered offenses at California and Texas Tech. Due to spending his entire college career in shot gun, it'll be a tough transition moving under center.
His foot work will be key as he transitions to the NFL. Also, it will be important to learn how to lead a huddle for the first time. Given a year to adjust being under center and making 3-5 step drops in the pocket could help his development greatly.