New York Jets: 3 options with their top pick in the '23 NFL Draft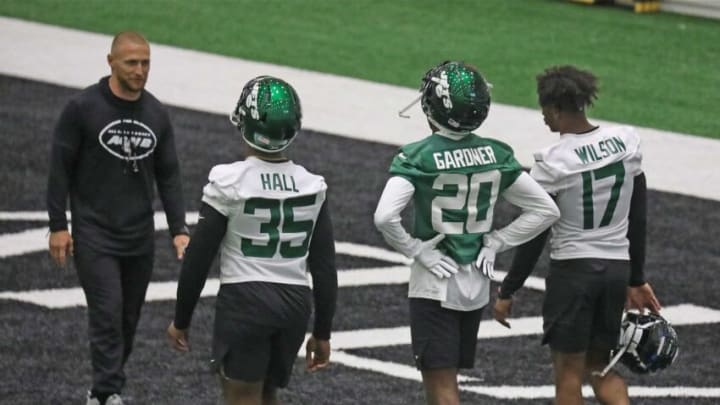 Running back Breece Hall, cornerback Sauce Gardner and wide receiver Garrett Wilson took part in the New York Jets Rookie Camp, held at their practice facility in Florham Park, NJ on May 6, 2022.The New York Jets Held Rookie Camp At Their Practice Facility In Florham Park Nj On May 6 2022 /
The New York Jets have the 13th overall pick in the 2023 NFL Draft. What should Joe Douglas do with their top selection in April?  If Douglas has proven anything, it's that he can build up a roster, but he did miss on the most important position in sports when he took Pro Day Darling Zach Wilson second overall back in 2021.
Now, the Jets pick 13th overall, so progress is being made there.  The team raced out to a 7-4 start before losing their last six games and falling out of the NFL playoffs.  Their defense, filled with studs and good coaching, was the fourth best scoring unit in the NFL.
However, their offense ranked 29th, which is the big problem.
The Jets are most definitely going to bring in a veteran quarterback and they would be insane to go into 2023 with any indication that Zach Wilson could be their starter.  Their roster is too good and young to not go all in this offseason.
So, with their 13th overall pick, what should the Jets do with it?
New York Jets: 3 options with their top pick in the '23 NFL Draft
Take an offensive tackle
I have seen several mock drafts peg the Jets to take an offensive tackle with their first pick, and it makes a ton of sense.  Mekhi Becton is uber talented but cannot stay healthy, and Duane Brown, while was a decent signing to fill the need temporarily, is clearly not more than a year or two fix for them.
Getting someone like Broderick Jones or Peter Skoronski would help greatly and would allow whoever is under center more time to throw.  Also, Joe Douglas has largely done a great job as a talent evaluator, so whoever he picks would likely be legit.
Package it in a trade for a QB
So, when I say quarterback, I am talking about the small chance that Lamar Jackson decides that he does not want to re-sign with the Baltimore Ravens and ultimately requests a trade.  A deal has not gotten done for them and Jackson is technically a free agent at the end of the year.
However, it's pretty clear that the Ravens will put the tag on Jackson no matter what they plan on doing afterwards.  The New York Jets would have to trade half of their franchise to get Jackson, but it would surely be worth it with their roster.
A theoretical trade would take multiple first round picks and some players, perhaps similar to what the Houston Texans got for Deshaun Watson.
Continue to bolster the defense
The New York Jets could continue doing what they did well this season, and that's playing defense.  With the uncertainty surrounding their offense, why not continue to build up the other side of the ball?  We've seen teams built like the Jets before.
Cough, cough, 2015 Denver Broncos.  An elite offense or defense can definitely win games and cover up other roster holes for a team.
If the Jets miss out on a QB upgrade, are unable to trade up in the draft to take one, and don't like their QB options picking at 13th overall, why not use it to strengthen the defense?
This might be the worst case scenario for them, as they would likely have to settle for a tier two quarterback option for 2023.
But that also gives them even more reason to use the pick on defense, because that unit might have to continue to carry the team.